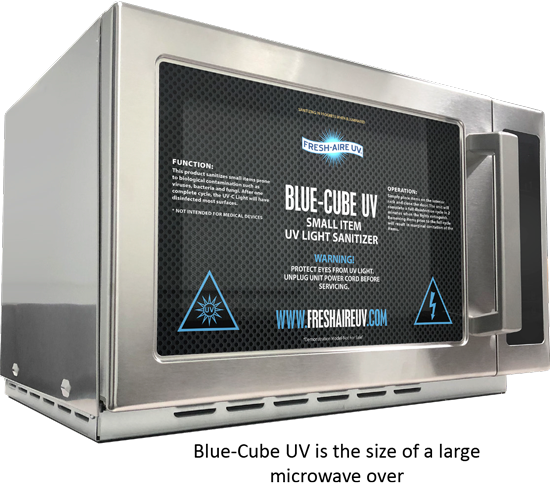 Blue-Cube UV is designed to sanitize small items that are prone to biohazard contamination from pathogens including viruses, bacteria, and mold. This small unit (the size of a large microwave oven) delivers a significant 1 joule/cm² dose of UV-C energy after the preprogrammed two minute disinfection cycle.
Germicidal UVC light is an established disinfection technology that has been proven effective against nearly all biological pathogens.
Safety features include dual interlock switches to prevent accidental exposure of skin and eyes. There is also an internal 20 amp (non-serviceable) fuse.
Gas-phase contaminants, odors, and volatile organic compounds (VOCs) that may be present in exhaust air are neutralized by proprietary APCO® cells.
Blue-Cube UV Specs  |  Blue-Cube UV Manual