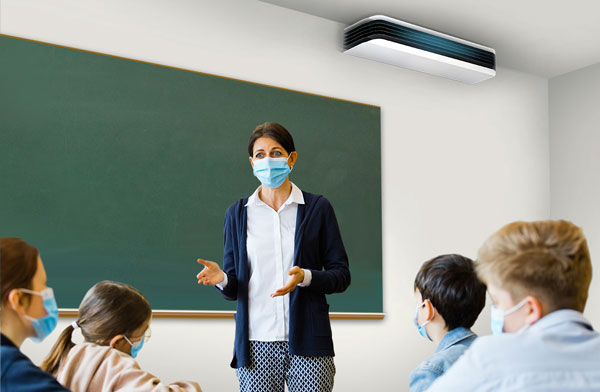 UPPER AIR UVC DISINFECTION FOR OCCUPIED SPACES
The need to protect occupied spaces from airborne pathogens has never been greater. Fortunately, Fresh-Aire UV germicidal lights have been proven to neutralize viruses, mold, and bacteria within seconds of exposure.
The Fresh-Aire UV Aire-Foil features 15" – 60" high-output UVC lamps and is wall-mounted near ceiling height. Upper air UV-C disinfection is an ideal method to mitigate the spread of microorganisms in occupied spaces. As air naturally heats and cools it moves by convection, which continuously circulates it throughout the space. Airborne viruses and bacteria are sterilized when exposed to the UVC light field.
The Aire-Foil unit is installed at a minimum height of 7' and is designed with louvers that shield occupants from UV exposure by projecting UVC light rays parallel to the plane of the ceiling.
Spec Sheet  |  Manual  | Assets
FEATURES/BENEFITS
Safe:
Louvered UVC light is safe for occupied spaces
Produces no harmful ozone
Effective:
Neutralizes airborne viruses & bacteria
APCO technology for odor and VOC reduction
Quiet:
Air convection for silent operation
Practical:
Dual High-output UVC germicidal lamp length: 15", 24", 32", or 60"
Quick & simple installation
2 year UVC lamp life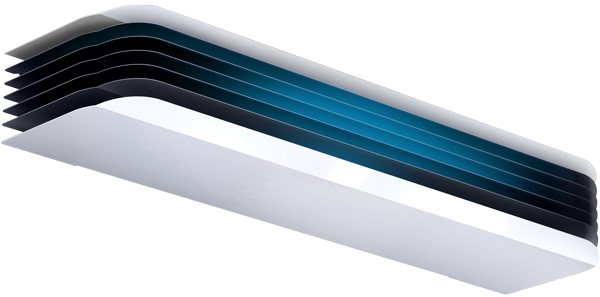 Durable:

Double corrosion protection with .024" galvanized steel construction and powder coat finish
PAF – Paint After Fabrication
All smooth and rounded corners
Lifetime Warranty:
Ensures years of trouble free operation

Neutralizes Mold, Bacteria, Viruses, and Allergens
The unique germ-killing properties of UVC light have been known for over a century. UVC in sunlight is filtered by the Earth's atmosphere so microbes have no defense against it. Aire Foil has been proven to neutralize viruses, mold, and bacteria within seconds of exposure.