Ice UV
The Original Germicidal UV Light for Ice Machines
Now ice machine maintenance is easier, safer, and more cost-effective thanks to the award winning ICE UV germicidal UV light system from Fresh-Aire UV. ICE UV works continuously to kill germs before they become established, reducing the need for frequent cleanings. The UV-C lamp is designed to produce just the right amount of UV-C light; enough to kill germs inside the ice machine without damaging plastic materials inside.
Ice UV Mini
The Low-Profile Germicidal UV Light System for Countertop Ice and Water Dispensers
Ice UV Mini™ is the perfect solution for controlling slime inside ice machines. The cool, dark, moist interior of countertop ice & water dispensers (sometimes called flakers) is an ideal breeding ground for bacteria, mold and viruses. Ice UV Mini™ operates 24/7 and does not require annual maintenance, except for a simple lamp change once a year.  Guaranteed to reduce cleanings.
Benefits
• UV-C laboratory test confirms 90% microbes killed after 10 minutes – 99.9% after 24 hours
• Saves money on ice machine maintenance
• Works continuously to keep ice machines clean
• Effective against mold, bacteria & viruses
• Reduces health risks from dirty ice
• Cleaner, clearer ice
Features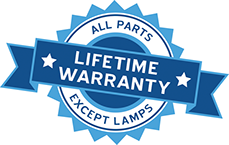 • UV fits in all types of ice machines
• 3 & 4 lamp systems available
• 32″ lamp systems available
• 2-Year water-resistant germicidal UV-C lamp
• Shatter-resistant Teflon® lamp coating
• Lifetime warranty on all parts except lamp
• 110-277 VAC electronic power supply
• Movable mounting bracket and shield
• Multi-lamp configurations for large systems